| | | |
| --- | --- | --- |
| Home | | |
Breaking the Boundaries of Passive Cooling for LEDs in Solid State Lighting
We develop and produce the most powerful and most cost effective passiv LED cooling solutions available today. For Solid-State Lighting LED Standard Modules, but also for application and customer specific solutions.
Our solutions work entirely passive (0dB), maintenance free, zero energy consuming, environmental friendly are compact and light weight and come at no cost or risk of ownership. We are here to help, should your heat-sink not meet your thermal requirements anymore and/or is too large and/or too heavy and you want to avoid active cooling means.
Currently our solutions cool Bridgelux Inc, Citizen, GE Lighting, Optogan, OSRAM, Philips Lighting, Sharp, Tridonic , Vossloh & Schwabe and Xicato Inc. LED Light Engines.
Please select Products & Services for further information.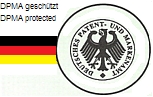 Developed and designed in Germany